Leading CARE
Dr. Venkatesh Nadar has been the Principal Investigator (PI) from the origins of CARE over 20 years ago. He holds board certifications for Cardiology and Internal Medicine, and actively cares for his clinical practice patients, along with his research patients. Dr. Nadar provides oversite to his team of three sub-investigators and seven research staff who have conducted over 100 studies. Dr. Nadar truly enjoys the research process as it gives his patients the ability to have extra personal care as well as providing state of the art treatments and education.
Benefits to Volunteering
Volunteering for clinical research is a personal choice, but we have highlighted the benefits below:
Personal attention from our experience staff including direct connection with our clinicians
Education on your condition and the available treatments, which our staff allow as much time as you need to ask questions and ensure you are completely comfortable
Throughout the process often physical exams, lab work, diagnostics exam and other screenings are available at no cost. We provide you with results right away if possible
All study medications are provided at no cost during study duration
Compensation for your time and travel
Open sharing of results with primary care provider whenever possible
Possible improvement to your symptoms
Your participation will help treatment advancements to others
For Sponsors
CARE is located in South Central Pennsylvania which provides it unique benefits to clinical research implementation. It is one of the fastest growing regions in Pennsylvania and maintains urban, suburban and rural communities with in a very short radius. Dr. Nadar has created many connections with local medication providers, allowing CARE to receive research referrals from over 15 providers in a multitude of specialties. CARE has prided itself on high recruitment and retention rates, often winning awards of excellence in both areas by sponsors. CARE is an independent research facility with experience in all phases of clinical research. The site has designated patient and monitoring rooms, lab equipment, and can use a central IRB. We have a fast start up time which allows for implementation of research studies within weeks of the initial contract agreements. Our site is easily accessible, by being conveniently located to major highways, Harrisburg International Airport and short travel from Philadelphia or Baltimore. There are many hotels with in a short distance of the site.
Areas of Research
Over the last 20 years we have conducted over 100 trials in the following areas:
Cardiovascular Diseases
Internal Medicine
Family Medicine
Endocrine Diseases
Obesity
Infectious Diseases
Vaccines
Hypertension
Multi-organ disorders
Kidney Disorders
Dyslipidemia
Vascular Diseases
Weight Loss
Normal Healthy
Electrophysiology
NASH
Orthopedics
Devices
Diagnostic Testing
Pain Management
Staff
(From back left to bottom right) Alison, Dipalee, Megan, Amanda, Kimberly, Alexandra
Kimberly
Kimberly graduated in 1990 from the University of Pittsburgh with a Bachelor's of Science degree in Biology. She started he career at the Milton S. Hershey Medical Center conducting Neonatal Intensive Care Unit (NICU) related research for 7 years. She was then given an opportunity to jump start a clinical research department with Dr Venkatesh K. Nadar, MD in 1999. Since then, Capital Area Research, LLC(CARE) has grown into a very reputable research clinic with highly skilled research staff. CARE has done over 100 clinical trials in a diverse number of therapeutic areas.

Amanda
Amanda graduated from East Stroudsburg University with a Masters in Clinical Exercise Physiology. She began working for CARE in 2008 as a research coordinator and is certified. While working at CARE, she has worked on numerous research trials involving investigational medications, medical devices, and her areas of interest are Congestive Heart Failure & Cardiac Arrhythmia.

Dipalee
Dipalee Patel completed her Bachelor of Science degree with major in Microbiology from Gujarat University (India) in 2007, where she worked as Clinical Research Coordinator at CIMS Hospital for over 7 years. She joined Capital Area Research in 2015. She has been a clinical research coordinator/regulatory coordinator for Phase II, III and IV trials at Capital Area Research.

Alison
Alison graduated Cum Laude from Bloomsburg University with a Bachelor of Science degree in medical imaging along with a cardiovascular invasive specialty certificate. She has been working for CARE in clinical research since 2014. She has worked in clinical trials involving both systolic and diastolic heart failure, diabetes, and cholesterol.

Megan
Megan graduated from The University of Pittsburgh with a Bachelor of Science degree in biological sciences. Since 2011 she has worked at Capital Area Research as a research coordinator. She received her certification in clinical research through The Society of Clinical Research Associates in 2013, in which she is a current member. She has done clinical trials involving medications, imaging, and vaccines. Some areas of research Megan has directly worked in include cholesterol, diabetes, heart failure, peripheral artery disease, atrial fibrillation, DVT/PE, and clostridium difficile.

Alexandra
Alexandra earned her Bachelor's in Science from St. Joseph's University, and received her Master's in Public Health from Temple University. She began her research experience in preclinical orthopedic and cardiovascular research at the University of Pennsylvania in 2011 and then later became a contractor for the Navy where she focused on investigator led and clinical research. Alexandra is a published author in peer-reviewed journals. Some of her works have been referenced in text books and articles where they helped created changes to standard of practice. She is involved in research areas such as emergency medicine, internal medicine, infectious diseases, interventional radiology, anesthesia, and combat trauma/en route care. Alexandra joined Capital Area Research, LLC in 2017 where she continues to enhance her previous areas of research, especially in cardiovascular diseases.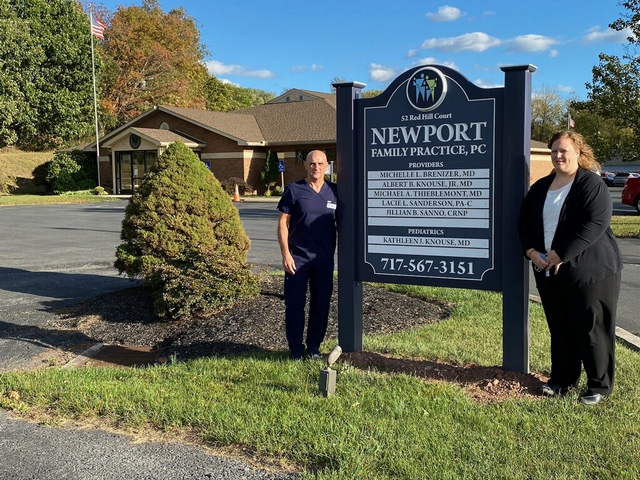 (Left to Right) Amy, Dr.Knouse
Dr. Knouse
Albert B. Knouse, Jr, MD, received his medical degree from Hahnemann University School of Medicine (now Drexel) in 1988 after completing his Bachelor of Science degree at Dickinson College in Carlisle, PA. From 1988–1991 he trained in family medicine at DeWitt Army Community Hospital in Fort Belvoir, VA. As a major in the US Army, Dr. Knouse continued his practice of family medicine at DeWitt where he served as teaching faculty for their family medicine residency program from 1991–1995. He then relocated to his home state of Pennsylvania and joined Newport Family Practice in Newport where he continues to proudly serve this south-central PA community. In 2004 while at Newport, Dr Knouse began his involvement with Capital Area Research and has since been involved in over thirty pharmaceutical trials.

Amy
Amy worked in Holy Spirit Hospital Emergency Department prior to joining Capital Area Research in 2006. Amy has been a part of the research staff for 14+ years in both the Camp Hill, and Newport location. In 2010 she received her certification as a Certified Clinical Research Professional through SoCRA. She has been directly involved in over 40 clinical trials with multiple pharmaceutical companies.